I received this book for free from Berkley in exchange for an honest review. This does not affect my opinion of the book or the content of my review.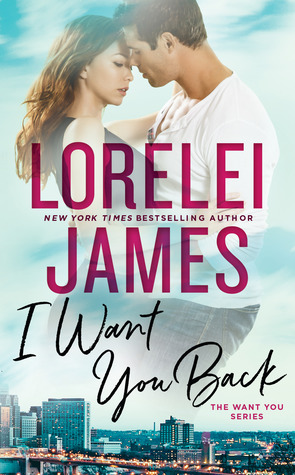 I Want You Back
by
Lorelei James
Series:
Want You #1
Series Rating:
Published by
Berkley Books
on April 2, 2019
Genres:
Contemporary
,
Romance
Pages:
400
Format:
Paperback
Source:
Berkley
Goodreads
Amazon
Apple Books
New York Times bestselling author Lorelei James kicks-off her Want You Series with a Lund family cousin hot enough to melt the ice and mend a broken heart.

Former NHL star Jaxson Lund has returned to the Twin Cities, but he's at loose ends, unsure if he belongs at Lund Industries, or where he stands with Lucy, his ex-girlfriend and mother of his daughter, Mimi. Despite the signs she'd like to leave him in the penalty box, the attraction burning between them reinforces his determination to prove that he deserves a second chance...

Lucy Quade is in a good place with a steady job, a nice apartment, and a well-adjusted daughter, which is why she's hesitant when Jax insists on co-parenting. It's not that Lucy doesn't trust Jax...she's just unconvinced he can handle multiple responsibilities when he's been singularly focused on playing hockey. But when issues arise with Mimi, Lucy's shocked at how levelheaded and paternal he acts, giving her a glimpse of the Jax she used to know, the sexy, sweet man she fell for years ago.

Once Lucy lets her guard down, Jax goes all in to show her how good they are together, but will their past remain too large an obstacle to ever overcome?
I've read a lot of second-chance romance. It's one of my favorite tropes. Rarely does one hit me the way this one does.
Jaxson Lund and Lucy Quade had a fairly tumultuous relationship. It ended almost a decade ago when Jax cheated on Lucy, repeatedly, and without even really trying to hide it. That wasn't the entire reason they split, it was just the final straw for Lucy, and she was done.
Here's the thing about first-time-around Jaxson. He was a giant pile of shit. We met him a few times in the Need You series, and he always struck me as an asshole. Even though he had started his road to redemption by the time that series started, he was still an ass. And the way he treated Lucy…. I just couldn't with him. I really didn't want to read his story, because I couldn't see any way that I would root for him, especially to get back with Lucy of all people, but then I also really wanted to see how Lorelei James managed it. If she could pull that off. I tend to be stubborn, and I don't forgive easily, either in my real life, or in my interactions with characters, so I didn't know if this would work or not.
Well, it did. By the end of the book, I was happy to see Jax and Lucy get their HEA, and to be back together, creating a really wonderful family dynamic with their daughter, Mimi. For me, the biggest point in Jaxson's favor was his attitude toward his past mistakes. He hit bottom not long after he and Lucy split, which forced him into rehab. And while rehab helped him deal with his alcohol problem, it didn't magically fix his life. Even after starting rehab, he was still an asshole to his family in general, and Lucy in particular. I don't remember all of the details from previous books, but I know he was full-on lying to his family about Lucy, how she was treating Mimi, and how she was trying to clean him out financially. He would sue Lucy for custody, spinning these lies to his family to justify it, all the while knowing that Lucy didn't want anything from him at all. She initially never tried to keep him from their daughter, but when she realized that he would pick Mimi up on Fridays, drop her off with family or friends, and not bother to see her again until he had to take her home on Sunday, she did try to reduce his time with Mimi, because Mimi didn't want to go over there. Jaxson told his family that Lucy was using his time with Mimi as a bargaining chip, refusing to let him see her unless he gave her ridiculous sums of money, and using that as an excuse to sue her for full custody of a daughter he didn't even want to bother with. All of this finally came out in a previous book, and his family was appropriately furious with him, and a lot of those relationships are still being repaired.
Jax owns all of this. Look, these were still piece-of-shit moves, but he recognizes that, acknowledges it, out loud, and to the people he affected, including Mimi, and apologizes, which is all he can do at this point. He doesn't make excuses beyond "I was an asshole". He accepts it, and he tells Lucy that he recognizes that he's completely destroyed her trust and that he's going to have to rebuild it from the ground up. Then he does the work to do that. He does his best to actually co-parent Mimi, following the rules Lucy already has in place, and communicating with her about everything.
He's not perfect. He fucks up plenty. But again and again, he owns up to it. He talks to Lucy about it, and he tries to do better. But he doesn't let Lucy just walk all over him. Once the two of them establish themselves back in a relationship, which happened earlier than I thought it would, he does start to try to establish his own place in their lives. They're typically pretty good about presenting a united front, and having any disagreements when Mimi isn't around, but there is one epic, loud, furious blow up that does some damage to their budding relationship, and the new world they're trying to create for Mimi. But again, they both own up to their part in it, they apologize to Mimi and to each other, and they sit down and hash it out.
I really thought Jax and Lucy did the best they could to acknowledge their history, and move on from it. This is what I like to see in a second-chance romance. A couple that acknowledges how badly they screwed up in the past, apologizes genuinely for it, and does the work to rebuild a relationship. I loved this book.
Related Posts