I received this book for free from Avon in exchange for an honest review. This does not affect my opinion of the book or the content of my review.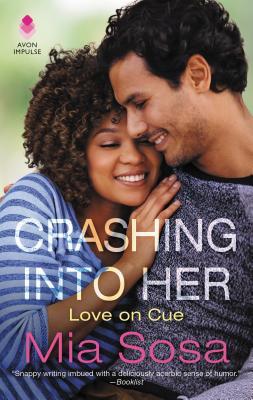 Crashing into Her
by
Mia Sosa
Series:
Love on Cue #3
Series Rating:
Published by
Avon Impulse
on February 19, 2019
Genres:
Contemporary
,
Romance
Pages:
384
Format:
eARC
Source:
Avon
Goodreads
Amazon
Apple Books
Relationships are a thing of the past for Eva Montgomery. Her current motto? You can't spell "manipulative" without man. But Eva has needs, and a one-night-stand at her best friend's wedding is the perfect way to kick off her new approach to singledom. Then a job opportunity puts her in the same city with the guy she can't forget . . .

Anthony Castillo is a perpetual bachelor—no strings, just flings—a status he maintains by being honest about his intentions and never looking back. So why is he still thinking about the firecracker of a woman who rocked his world at his cousin's wedding? It's a question he refuses to answer, until she comes crashing back into his life, taking his emotional walls down with her.

When her father doubts her ability to make it in LA, Eva vows to go big and prove him wrong. With her athletic background, she's an ideal candidate for stunt work. But first she'll need training, and the instructor is none other than her former hookup, Anthony Castillo. Except he's not as cocky as she remembers and he's definitely still sexy as sin. The only problem is . . . Anthony doesn't want her anywhere near his stunt school—or his heart.
Crashing Into Her was a delightful surprise. I don't know why it was a surprise – just look at that cover. I should have known I was in for something great, because that cover is so good.
Eva and Anthony had a mutually satisfactory one-night stand after a friend's wedding, and since Eva lived in Philadelphia and Anthony lived in LA, they figured that would be the end of that. Which suits both of them just fine. Anthony knows he's just not a forever kind of guy, and Eva has enough going on in her life and doesn't have time for more than that, either.
Then Eva gets a great opportunity to move to LA and help her friend Tori with her new fitness studio. Eva's passion is fitness, and getting to teach classes for a living while helping out a friend is too great a chance to pass up. Since Anthony is Tori's cousin, they're going to run into each other, which seems to disturb Anthony more than Eva. He's bound and determined to stay single, and his once he and Eva discuss their situation and decide they're better of as just friends, everything seems to be on track.
Eva and Anthony were easily one of the best couples I've read recently. They both had issues, and neither of them was looking for a relationship, but as we all know, that's exactly when love will usually knock our heroes and heroines over. Their respective parents' divorces had marked each of them, though in very different ways. The lesson Anthony learned is that love is always imbalanced, that one person in a couple will always love the other person more than the other, and that will always lead to heartache. He doesn't want to be hurt, and he doesn't want to hurt anyone else, so he just avoids relationships. Eva rightfully calls him out on his bullshit, in one of the several instances of wonderful banter the two of them engage in.
This aspect of their relationship was refreshing. Even though they were both sure they didn't want to get involved with each other, they were completely honest. Always, sometimes to a fault. They were able to have the discussions they needed to have, even when they were going to be hard. They didn't try to hide their feelings, or anything else. This allowed them the room to work through their feelings together. Not just about their relationship, either. Eva helped Anthony realize a few things about his feelings toward his mother, and Anthony helped Eva work through the complicated relationship she had with her father. They were just so good for each other all around. I really felt like their relationship actually enhanced both of their lives, not just their love lives. Being together made everything just click for them both.
And I haven't even mentioned the food! Holy moly the food sounded delicious. I was starving the entire time I was reading this, and I'm determined to find a decent Puerto Rican restaurant in my area so I can try some of the dishes described in this book. This is the 3rd (and final) book in Mia Sosa's Love on Cue series, but I haven't read the first two in the series, and I didn't have any trouble with this. It was easily read as a standalone. If you're looking for a great story, plenty of banter, and two characters who really need each other, you can't go wrong with Crashing Into Her.
Related Posts